Bathroom Remodel Services
If your bathroom is less than ideal or needs a little help with design, appearance, and functionality, Sunset Builders, Inc. is here to help. We tackle bathroom remodel projects of all kinds for homeowners in Manchester, Bedford, Nashua, and the surrounding communities of New Hampshire. To get a free, personalized quote, contact us today at (603) 533-7504. Large or small, the professionals at Sunset Builders have a solution for every bathroom dilemma.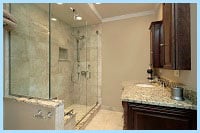 Common Problem #1: Small Bathrooms
Whether your master bath is too small, or you want to add a bathtub to the washroom down the hall, our experienced remodeling contractors can expand and enlarge this room. Better yet, consider upgrading to a luxury bathroom with spa-like amenities. Some lavish bathroom remodeling ideas include adding a whirlpool tub, his and her sinks, and even heated floors.
Common Problem #2: No Aesthetic Appeal
Constant wear and tear, water contact, and harsh cleaning chemicals can quickly leave your bathroom in a state of disrepair. While a fresh coat of paint can temporarily spruce it up, there's nothing like sparkling new flooring, fresh countertops, and a coordinating backsplash to restore it long term. We can install new amenities in your bathroom that update it and pull the room's look together.
Common Problem #3: Poor Design
Some bathrooms seem smaller than they really are because they've been designed poorly. If you don't have the space to enlarge your bathroom, a bathroom renovation can include reconfiguring it to better use the space. Simply replacing a tub with a corner shower will create several feet of extra room. Additionally, you'll be astonished at how adding high-quality lighting, a recessed cabinet, and a tall vanity will make the area seem larger.
The Sunset Builder Advantage
Whether you need kitchen remodeling, basement finishing, exterior renovations, duct sealing, or a bathroom facelift, you'll love our strong work ethic and our attention to detail. We also offer the following benefits:
Custom Work: From custom cabinetry and other built-ins to spacious room additions and beautiful custom homes, our expert craftsmen can build and design anything. We specialize in Early-American styles.
Expert Guidance: We have the experience necessary to take your inspiration and ideas and develop a practical, affordable plan.
Green Emphasis: We belong to Build Green NH® and can help you take advantage of green construction techniques.
Free bathroom remodel quote
Call Now –
(603) 533-7504
Contact Sunset Builders at (603) 533-7504 to get a free quote on your bathroom remodel or any of our other services. We look forward to transforming your Manchester-area house into the home you've always wanted.